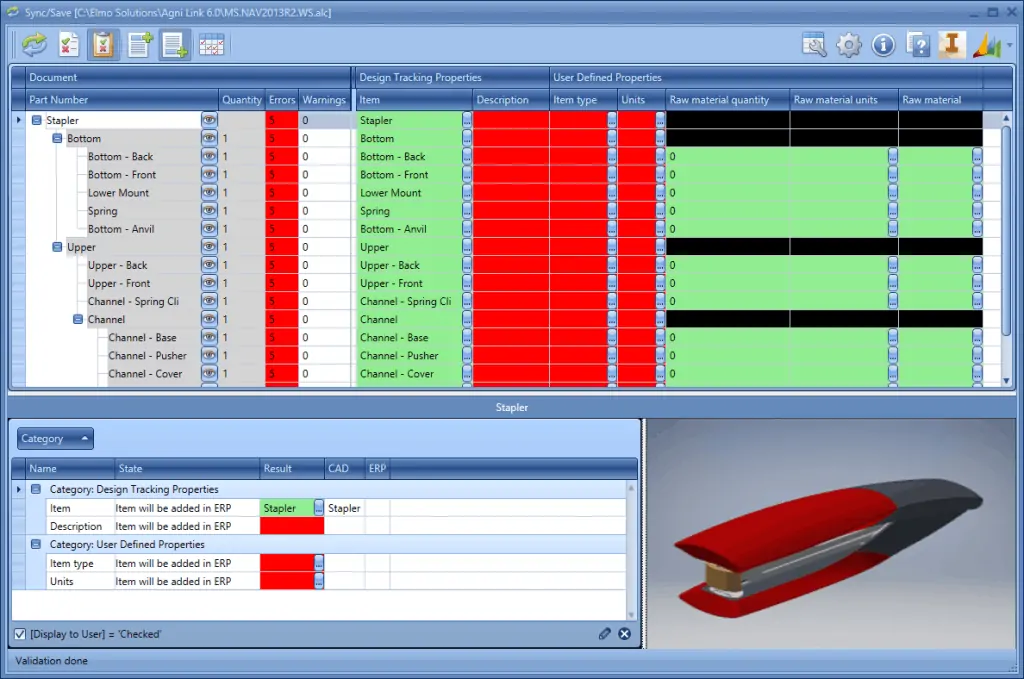 CAD ERP INTEGRATION
4 Things To Expect — More to Demand!
CAD ERP software integration reduces the engineering effort, especially in an Engineered-To-Order (ETO) production model. Without it, the transfer of your Bills of Materials (BoMs) may consume as much as 20% of your total engineering time. This adds up to costly errors on the shop floor, as a result of faulty data transcription.
Finding the right CAD ERP software integration solution is like any other journey. It will be safe and pleasant, as long as you know what to look for, and what to expect.
The following summarizes what we've learned from our 30+ years in Bill of Materials (BoM) management. It should help you find out what to look for in an efficient CAD and ERP integration software, either homegrown or purchased.
THE 4 CARDINAL QUALITIES OF A SUCCESSFUL CAD-ERP INTEGRATION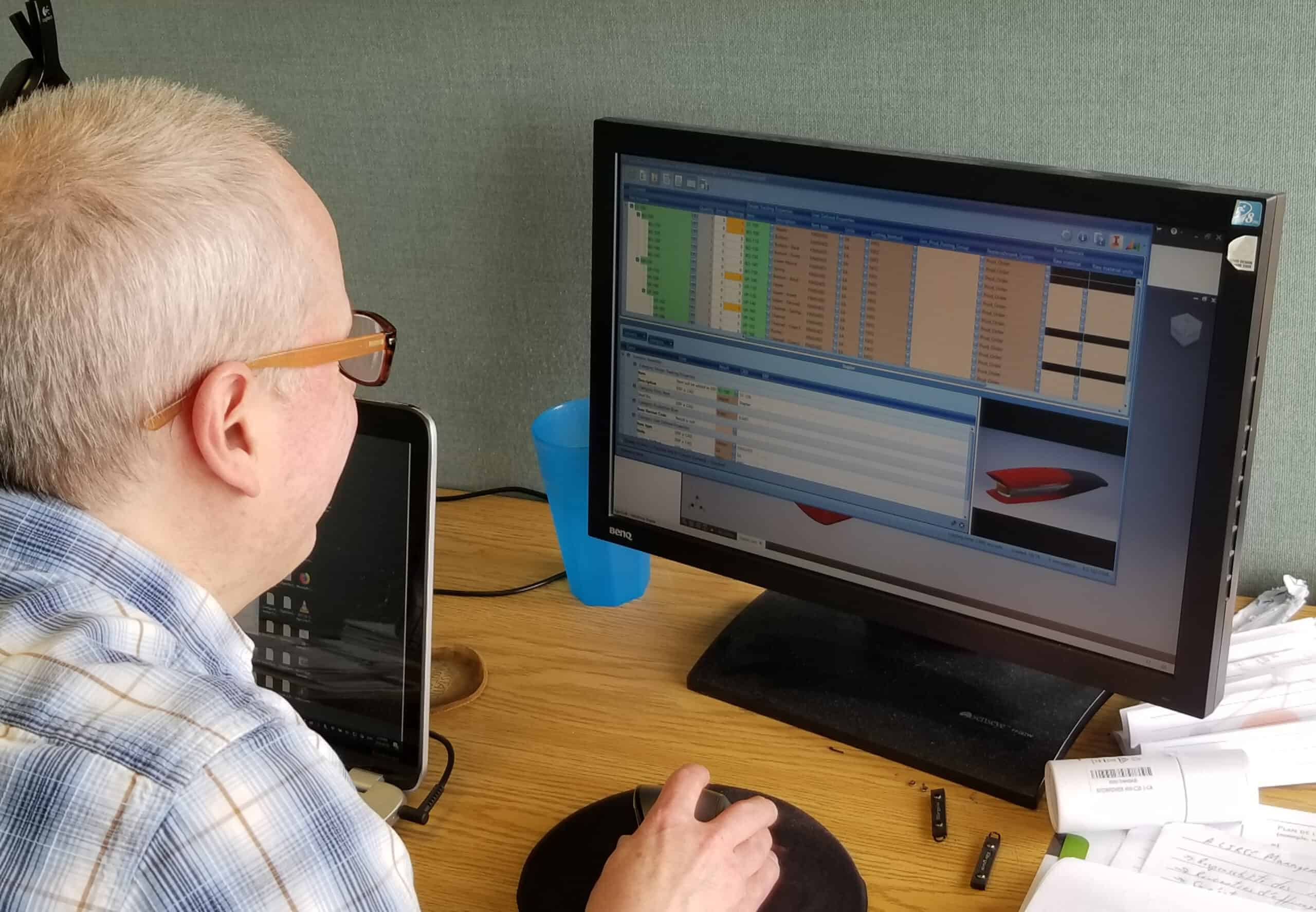 Simplicity
You want a fast and efficient implementation that won't take forever before it's operational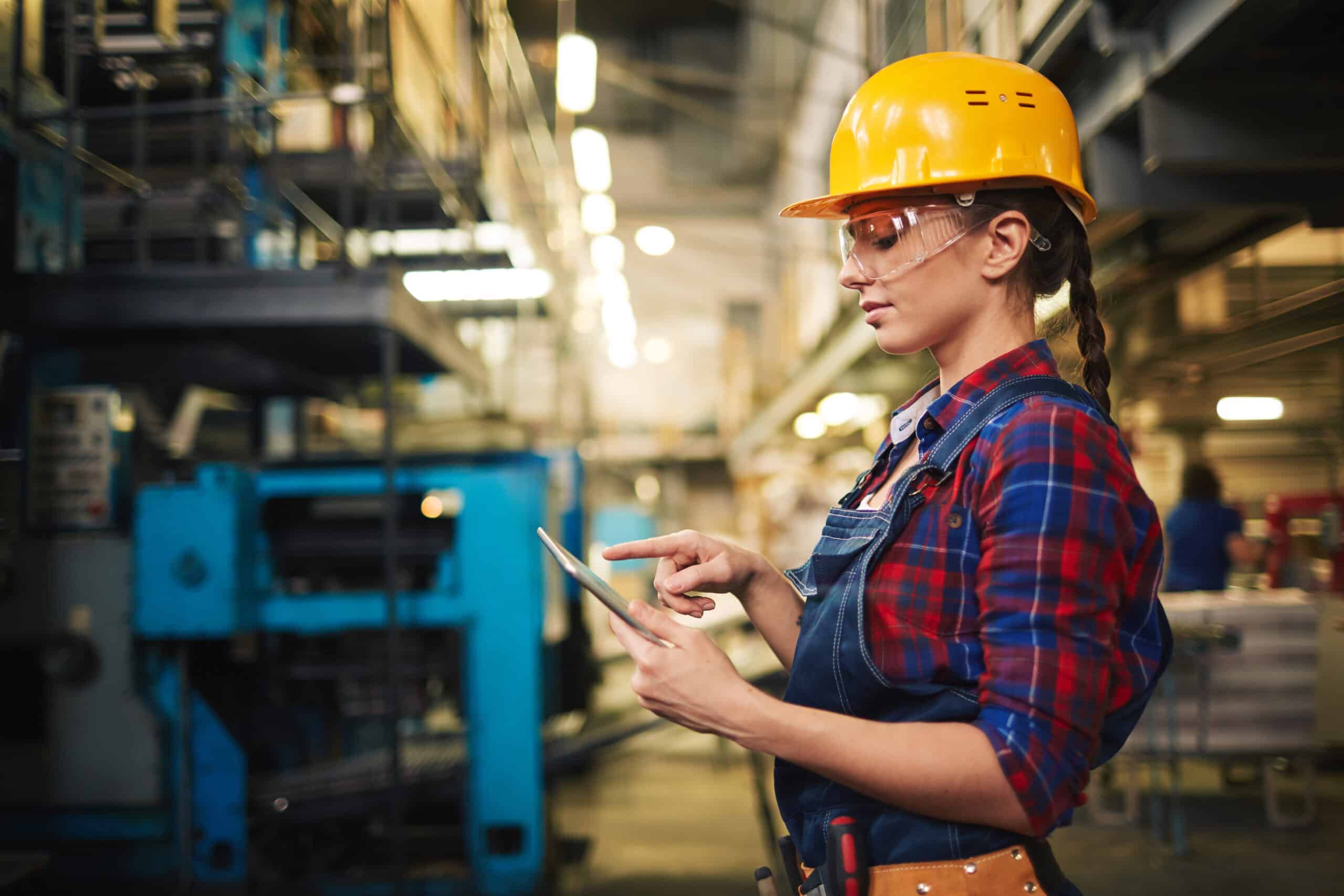 Always in sync
You need a bidirectional and real-time metadata exchange. It will also have to be usable by humans. That usually excludes programmers from the solution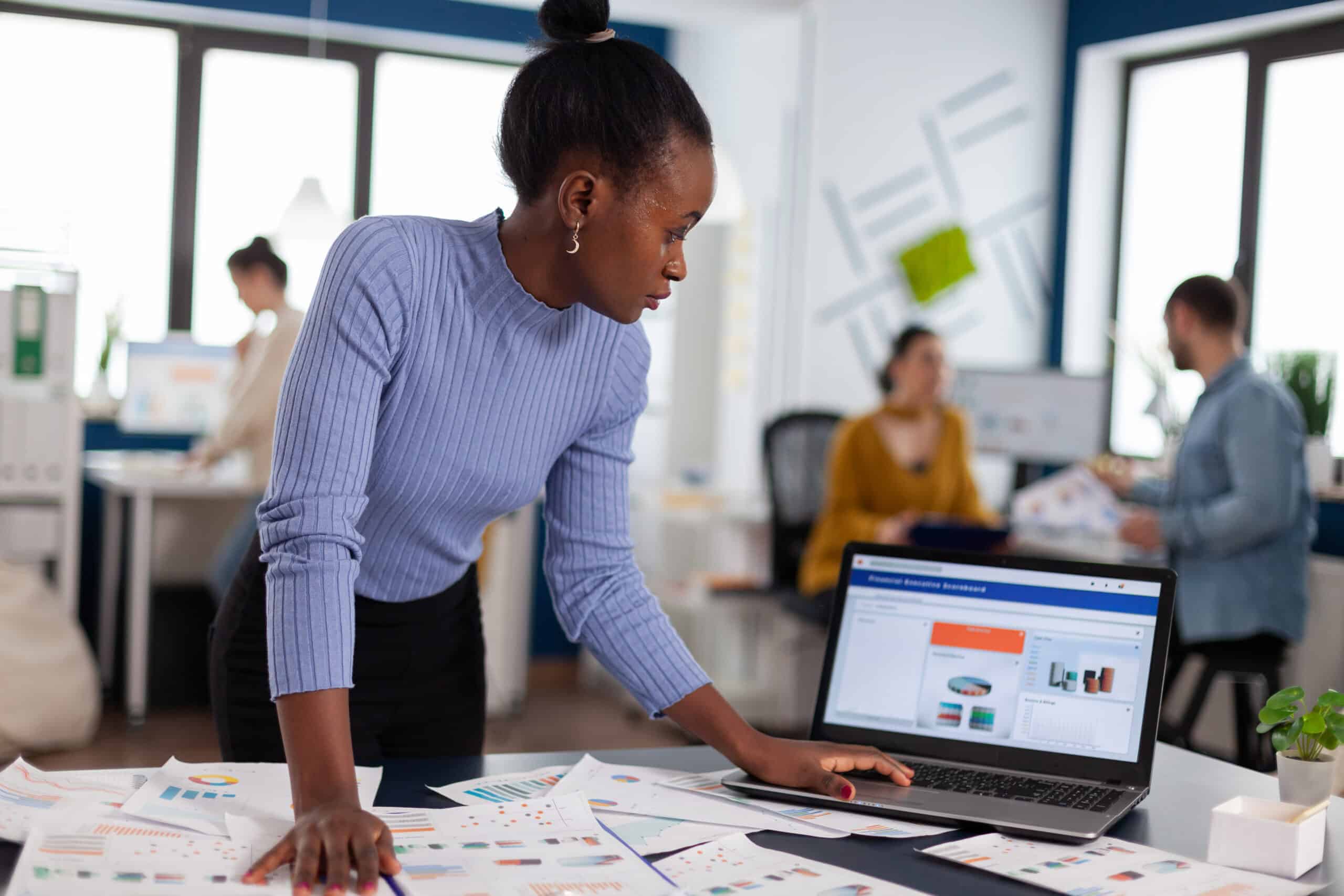 High ROI
You need a solution that will return benefits over the short term, ideally a few months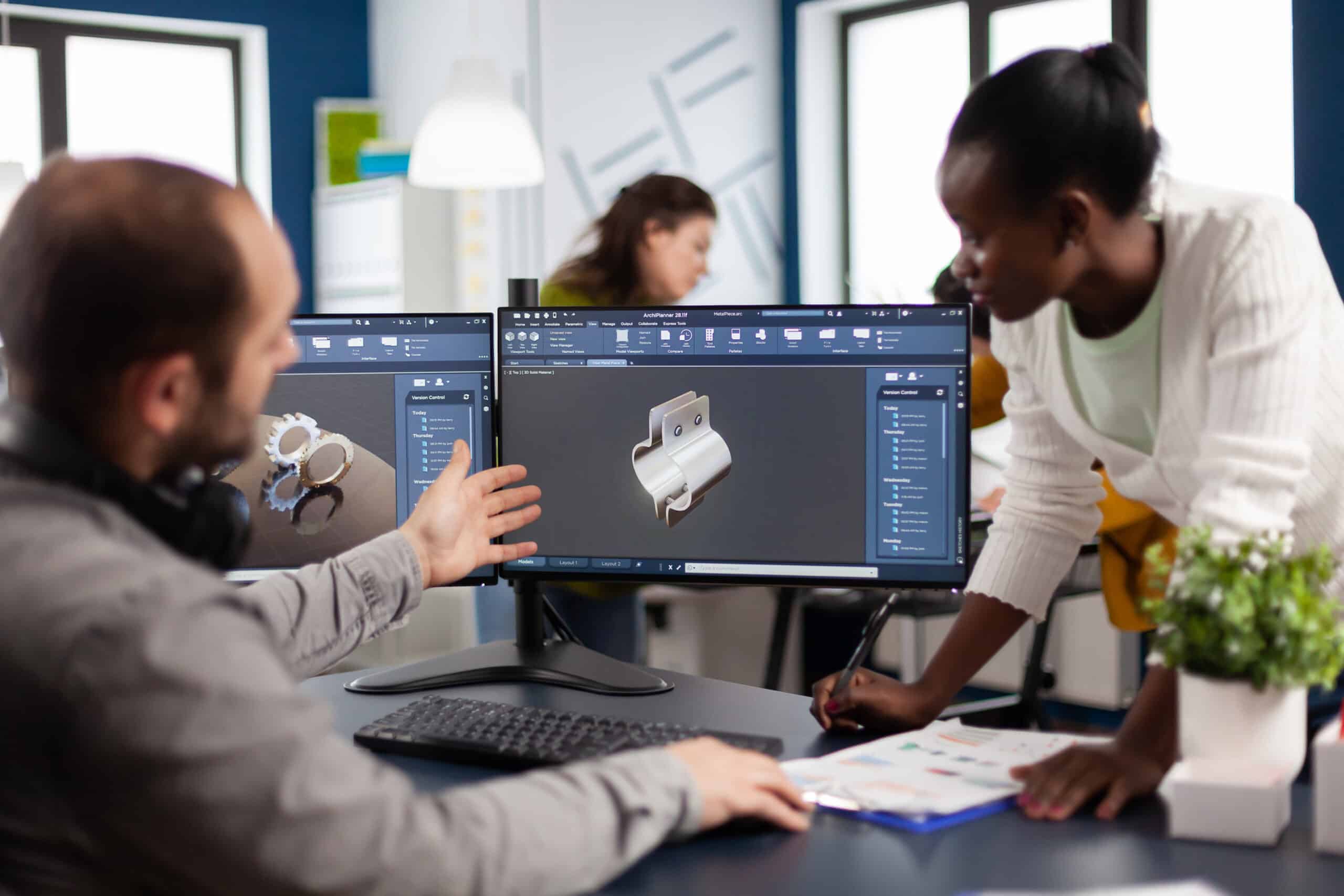 Ready for PDM and PLM
Sooner or later, you will make the grade to PDM or PLM software. You will want to leverage your past investment, and make the transition as smooth as possible, with optimal results
Finding the right CAD ERP integration solution:
The basics

For more than 20 years, Elmo Solutions worked on CAD/PDM/PLM to ERP integration. Based on our experience with businesses of all sizes and business models, we identified the sticking points that separated them from the best solution.
That is how we have developed a comprehensive list of elements shaping the core benefits to expect. Those should help you put together your own checklist of what you need to implement a successful CAD ERP integration.
Agni Link's design pillars are the ingredients for success. Indeed, our CAD ERP solution was designed for businesses that follow an ETO production model.
We are confident that this tool will help you compare different approaches and solutions and find out which one works best for your company.
1. Easy to implement : the entire implementation process should take no more than 30 days, from beginning to end. From the kick-off meeting to the final rollout, a typical implementation should normally be completed within 20 business days.
2. Easy installation : your CAD, PDM or PLM software will receive an add-inn installed on individual user environments. Installation and configuration for each user should take less than 5 minutes.
3. Easy to use and maintain : the solution you buy should require minimal training, as there is minimal user intervention required :
No need for an ERP end-user license.
You can handle all BoM levels in one single operation.
The user interface is CAD-vendor independent, and consistent across all CAD, PDM and PLM software.
4. No custom programming : remember, you want to minimize your TCO (Total Cost of Ownership). Based on our experience, the only way to achieve that is to stay away from any approach or solution that involves custom programming, either homegrown or vendor-driven. You want to be, at all times, in complete control, not only of the data integration process, but also of the mappings involved in the integration, as well as the behavior of these mappings during the integration process, and without depending on programmers. You will probably want:
A user-friendly configuration tool that will allow you to add, suppress and modify the mappings that support the integration.
The capability of defining data validity by your own rules.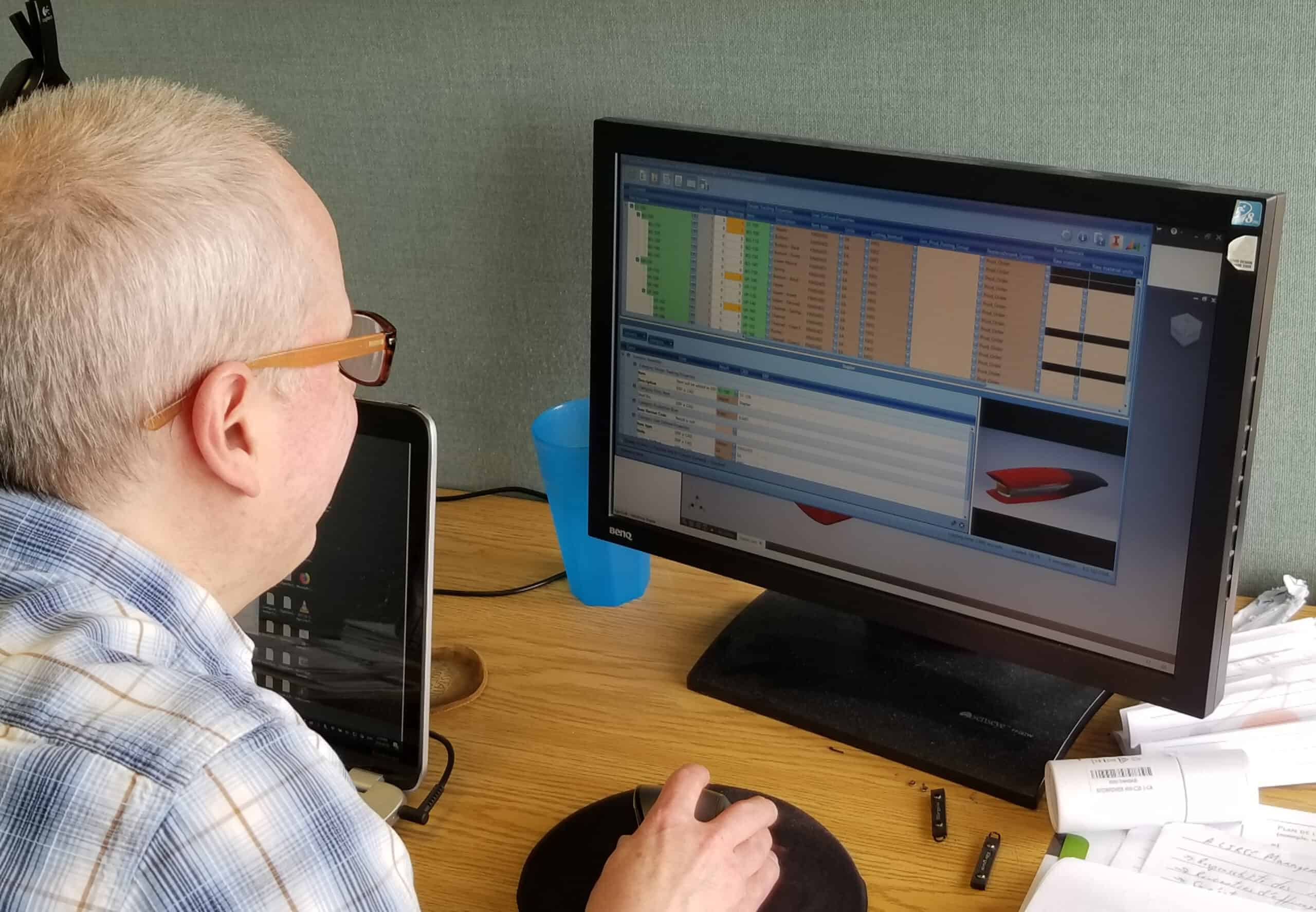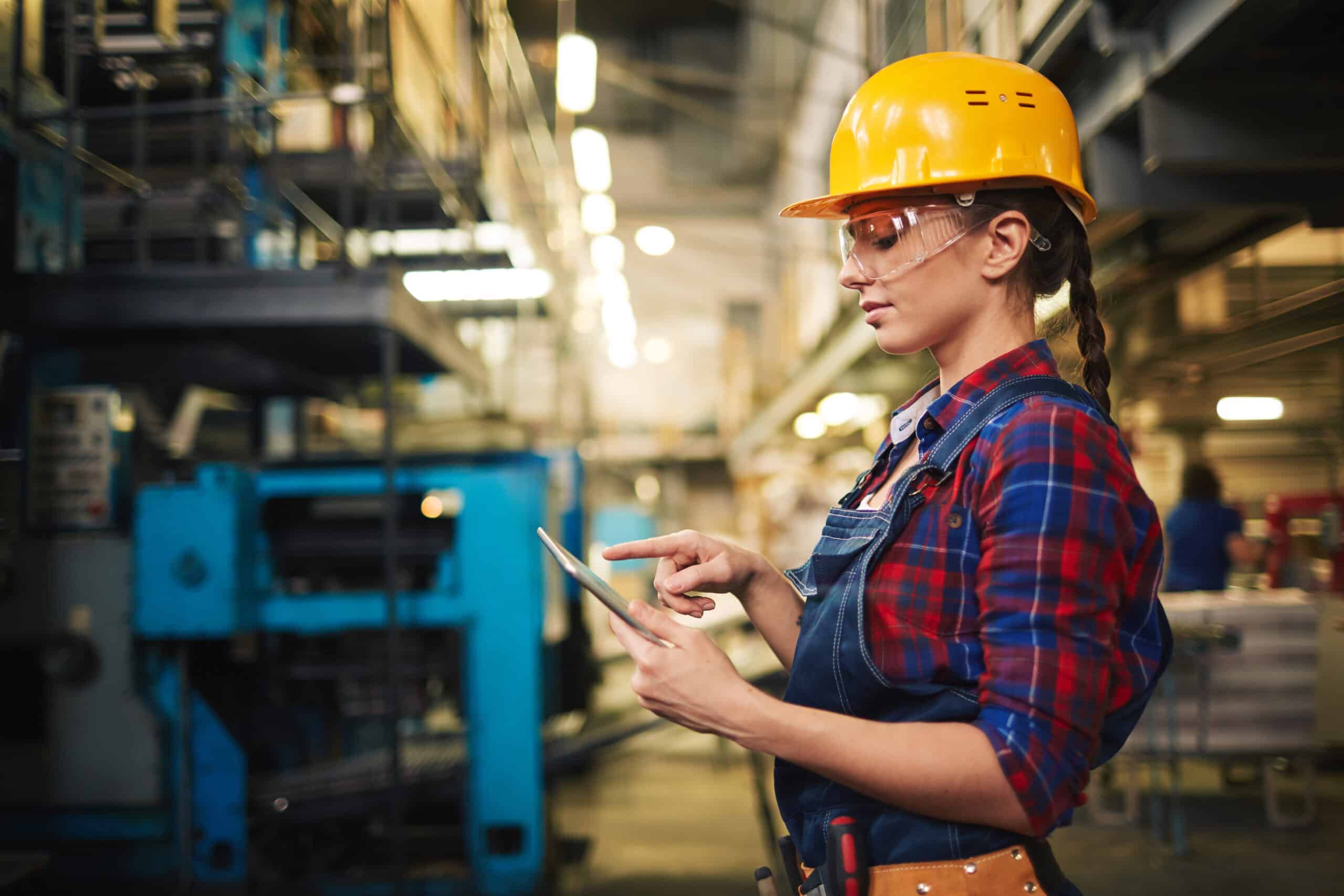 1. No matter the orientation you take, the system should allow you to integrate and synchronize, at a minimum :
Part/Component/Assembly data: data's processed, sent and updated appropriately.
Bills Of Materials: your edits of assembly or subassembly automatically update to ensure consistency of Bill of Materials data.
Routing instructions: you can manage manufacturing steps whenever you edit a drawing of a component or assembly. When done, an updated routing table is sent to the MRP system, and a copy is automatically inserted into the drawing.
Other data : There is actually a whole universe of data objects that can be shared between the CAD and ERP environments.
2. The basic process of your CAD ERP integration should include the following steps :
Get existing CAD and ERP data from their respective databases.
Automatically resolve discrepancies between CAD and ERP data.
Allow the CAD software user to edit the data, always validating it in real time against the ERP data.
Automatically create the required CAD and ERP data objects, if required.
Simultaneously updating CAD and ERP data.
3. The system should automatically detect errors and correct them :
You should have complete control on the business rules… again, without any programming.
Your systems automatically resolve any discrepancies, while always leaving the final say to the end-user.
You should be able to avoid any redundant data entry.
4. Ah, one more thing: although it is true that 90% of known CAD and ERP integrations are about Items and Bills of Materials, there are huge opportunities for other types of integrations, such as floor layouts, quotes, etc. Here is a non-exhaustive list of possibilities :
✔ Assembly /sub assembly
✔ Business Process Management (BPM) data
✔ Bills of Materials (BoMs)
✔ Components
✔ Product configuration
✔ Parts catalogs
✔ Product data
✔ Production orders
✔ Production schedules
✔ CRM Data
✔ Document management
✔ Estimating
✔ Jobs
✔ Product catalogs
✔ Sales Quotes
✔ Supply chain data
✔ Technical documentation
✔ Work orders
✔ Routing data
You will invest good money into your CAD and ERP integration project. Consequently, you have every right to expect a matching ROI (Return On Investment).
1. Based on our experience, you should expect a fairly quick ROI :
As an example, a typical Agni Link implementation pays for itself in 3-6 months.
Expect a reduction of your engineering cycle time of 5-20%, as a result of the reduction of the time spent on the transfer of BoMs.
2. Of course, it is possible to predict the ROI based on the elimination of BoM data transcription. However, from our experience, the bulk of the ROI rather comes from savings resulting from a dramatic improvement in BoM accuracy. This, in turn, usually brings a substantial reduction of costly errors on the factory floor :
ERP updates it's BoM data whenever a design change is made.
The right raw materials used at the right time.
Drawings with up-to-date routings are distributed on the factory floor.
How about ordering an ROI assessment? It's free, and might make your decision process easier… Request a ROI assessment. We'll take time with you for a full evaluation of your potential CAD ERP integration.
03. Quick ROI for CAD ERP integrations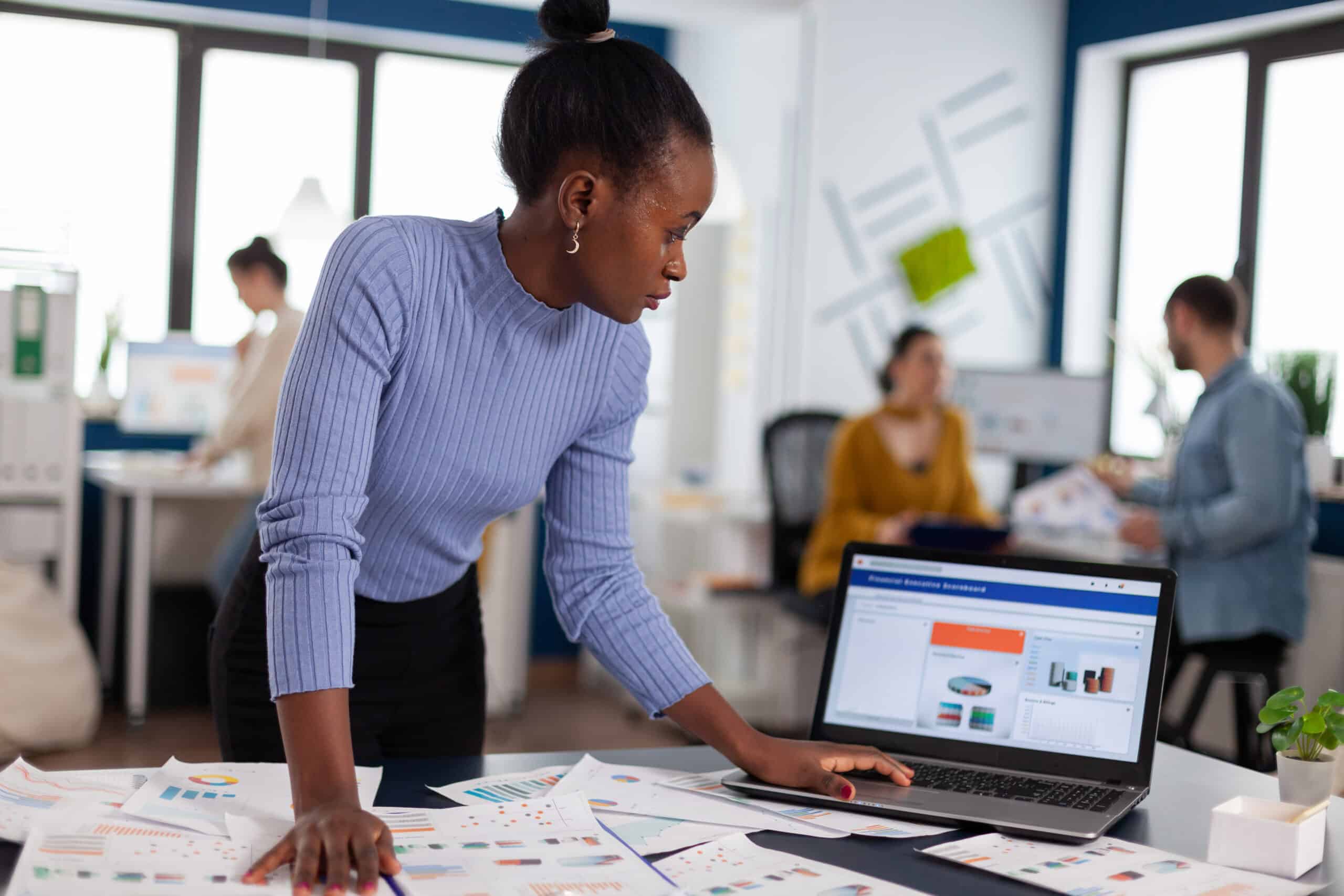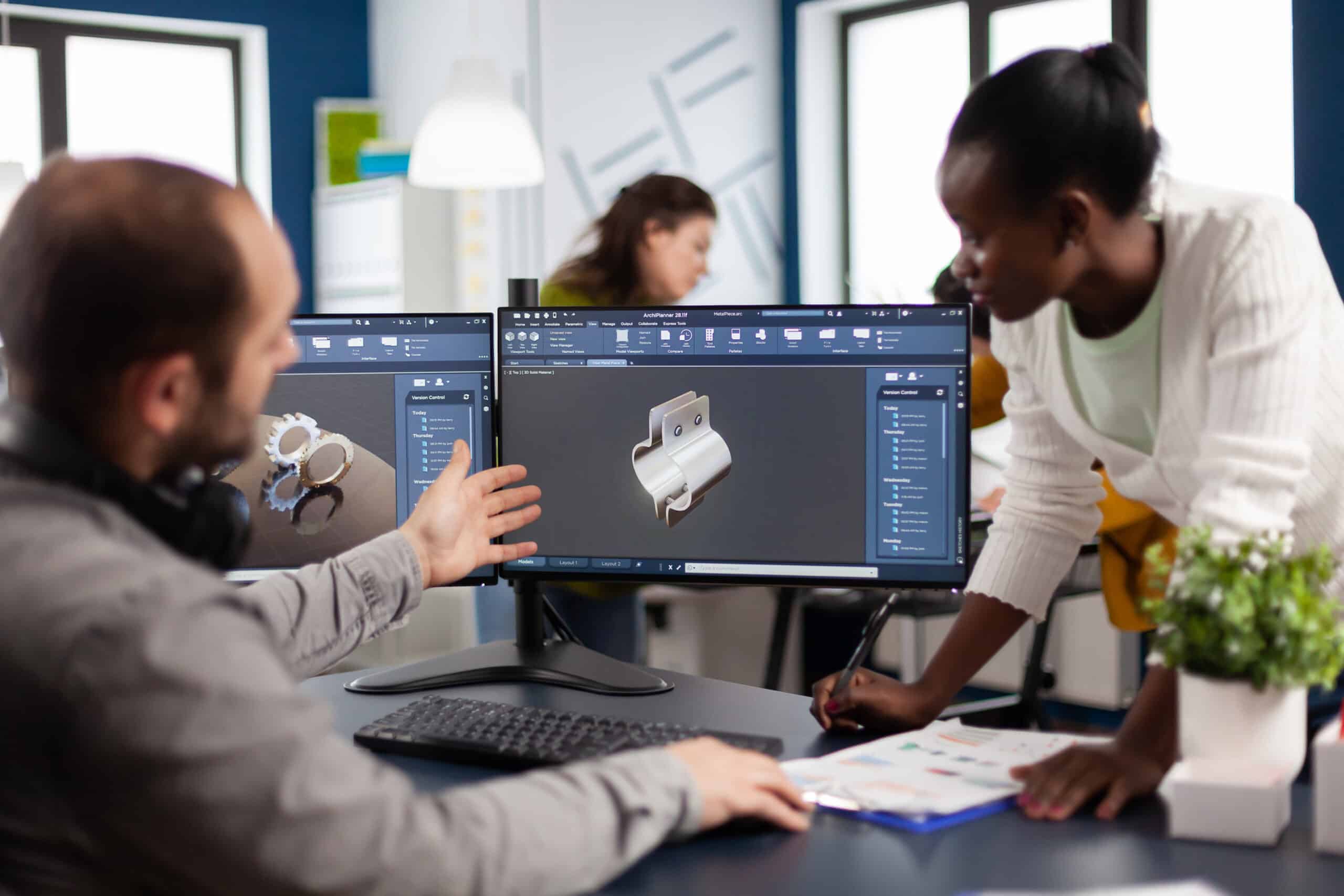 CAD, PDM, PLM and ERP environments are quite hermetic data silos that are not designed to communicate freely.
Most PDM and PLM software vendors claim to have ERP integration. However, their offering is limited to a mere export-import process that is hardly better than manual data transcription, mainly because it lacks the real-time, bidirectional approach that is the only sensible way to achieve a failsafe CAD and ERP integration every time. The export/import approach leaves the door wide open to data rejection by the target system, partially completed transfers, improperly validated data, discrepancies, etc. If you're at the PDM or PLM stage, such a Dark Age process is certainly not an option.
Successful CAD/PDM/PLM-ERP integrations necessarily require real-time data exchange. It is proven that any other way is destined to failure. Why real-time? Because you need a layer of protection, a temporary data object that you will use to populate and validate data prior to the final transfer to the ERP system.
Any user-issued change requires validation prior to the transfer to ERP. Until then, product data should be « frozen » until final user confirmation, thus ensuring the quality of the data to be passed to the downstream business processes. That is the only way to ensure the accuracy of your documents accuracy.
For example, you want to make sure that everyone will working on the current version/revision. Agni Link ensures a consistent workflow by faithfully passing version/revision data to both sides, thus preserving perfectly the document history of versions/revisions. For the full details, click to arrange a meeting with one of our experts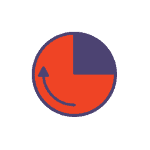 Reduce Design Time by up to 25%
In ETO-intensive manufacturing, anywhere between 5% and 25% of the total engineering is devoted to the transfer of Bills of Materials from engineering to manufacturing. Automating that process translates into dramatic savings… and improved lead time.

Elimination of Costly Errors on Factory Floor
Increased BoM accuracy brings increased product quality, better yield on raw materials… and lower production costs.

Agni Link usually pays for itself very quickly. Recovery periods of 180 days or less are not uncommon.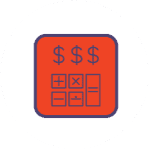 Guaranteed on-Budget Implementation
With Elmo Solutions' fixed fee programs, configuration and deployment are done for a fixed fee, no matter how complex your requirements are. Guaranteed cost… Guaranteed peace of mind!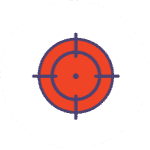 Automatic Error Detection and Correction
Agni Link's unique architecture allows automatic resolution of discrepancies, based on rules over which the customer has complete control. Another way we can maximize engineering time.

An Agni Link customer has full control over the integration process, thanks to the Agni Link Integration Builder. Add as many mappings as you like, modify or suppress existing mappings. Define data validity by your own rules. Without any programming whatsoever.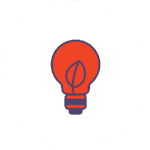 The JumpStart (implementation support) and BigBangBoMs (Data Initialization) Programs greatly enhance the value of the solution by bringing complementary services… for a fixed fee. No surprises!

Up And Running in 30 Days… or Less.
From the kick-off meeting to the final rollout, a typical implementation is normally completed within 20 business days.

Agni Link currently works in English and French. Configuring other languages is a straightforward process, and can be easily done upon request.
Will Agni Link support my CAD and ERP systems?
Elmo Solutions' Agni Link is currently available as an add-in to the following platforms:

CAD/PDM/PLM applications
Dassault Systèmes CATIA
PTC Creo
Siemens NX
Altium Designer
Planned CAD/PDM/PLM applications
ERP Integrations
ODOO
Orchestra pour PME
Acomba Accounting Suite
Planned ERP Integrations
Agni Link can also be easily and cost-effectively adapted to virtually any CAD, PDM, PLM or ERP systems. Click here to inquire about availability for other applications that may require CAD/PDM/PLM data integration.
Book a Free Demo Now!

Please complete this form to book an Agni Link demonstration.

* indicates a required field

"*" indicates required fields