How CAD-ERP Integration Works: The Agni Link Architecture
You can see the Agni Link architecture as a set of three "buckets" containing the data the customer wishes to map between the CAD/PDM/PLM system and the ERP system.

Upon saving a drawing, component or assembly for the first time, and at any moment afterwards, or upon user-selectable events (new revision, new version, approval, release, etc.), the user may enter and/or edit CAD data using possible values taken "live" from the MRP, ERP, BPM, CRM or other application, using the Integration Dashboard:
Upon end-user confirmation, the data is updated in both the PLM/CAD document and the MRP, ERP, BPM, CRM or other database, thus ensuring perfect synchronization of both data sets, and completely eliminating redundant data entry.  Agni Link can process and synchronize a wide range of data from either side, including, but not limited to:
Part/Component/Assembly data: When any component, subassembly or assembly is processed, Agni Link determines where appropriate metadata is sent, and updates it accordingly.
Bills Of Materials: When an assembly or subassembly is being edited, a new updated Bill of Materials is produced, and sent to the MRP/ERP system, thus ensuring immediate and permanent consistency between PLM/CAD and MRP/ERP metadata<
Routing instructions: Editing a drawing of a component or assembly automatically brings a scrolling list that shows the current manufacturing steps for that component.  The end-user may then add or remove steps, as well as alter the sequence of operations at will.  When done, an updated routing table is sent to the MRP system, and a copy is automatically inserted into the drawing.
Possible Integrations
Although a good number of applications for Agni Link involve Bill of Materials (BoM) data, the Agni Link architecture can be put to work just as efficiently to integrate other ERP data, namely:
Estimating
Sales Quotes
Business Process Management (BPM) data
Work Orders
Production Orders
Production Schedules
Product Catalogs
Product Configurations
Parts Catalogs
Technical Documentation
Supply Chain data
Document Management
CRM data
You are more than welcome to contact us to inquire about other applications that may require CAD data integration.
Elmo Solutions' Agni Link is currently available as an add-in to the following platforms:
CAD/PDM/PLM applications

Planned

CAD/PDM/PLM

applications

ERP Integrations

Planned ERP Integrations

Dassault Systèmes CATIA
PTC Creo

Prextra by CDiD
Orchestra pour PME
Acomba Accounting Suite
Agni Link can also be easily and cost-effectively adapted to virtually any CAD, PDM, PLM, ERP, MRP, CRM, BPM or other system. Do not hesitate to contact us to inquire about availability for other applications that may require CAD/PDM/PLM data integration.
Is Agni Link Available For My Own ERP, MRP, BPM, CRM or other system?
Agni Link can work with virtually any such system. Thanks to the unique Agni Link architecture, configuring support for a new system (even an in-house, custom, "homegrown" application) is usually a fast and cost-effective process that is usually done at no extra cost. To inquire about availability on any ERP / MRP system, just fill the Customer Inquiry Form.
Moreover, Agni Link is designed to be quite easily custom-tailored to fit the customers' particular needs and requirements, and as such customers can have a special version written for them, ensuring optimal suitability with their needs and requirements. The Elmo Solutions R+D Group can develop new CAD filters, ERP / MRP filters, or even custom modules for a specific environment to fill the needs of existing and potential users. It is likely that our R+D department can help you in that respect: Just send an eMail to info@elmosolutions.com, or use our toll-free number: 844-4CAD-ERP. Outside of North America: +1.418.623.7755.
The Agni Link Integration Dashboard
We almost called it: The Swiss Knife of CAD-ERP integration.  It is the heart of the new Agni Link user interface, and will give end-users a panoramic view of the current state of the integration, while allowing to quickly edit, scrub and even automatically populate data prior to synchronization with the ERP system. It's the visual core of the Agni Link architecture and it also includes:
Data filtering
Data sorting
Bulk editing (copy, paste, delete, etc.)
One-click populating of cell contents

Agni Link Configuration Builder
This powerful tool will allow end-users to build their own Agni Link configurations, bringing a lot of flexibility to modify not only the data mappings, but also the behavior, and even the calculations, of CAD and ERP data.

Cloud-ready, enhanced Web Services connectivity
While previous editions of Agni Link allowed a wide range of mechanisms to update ERP data, such as SQL queries, SQL Stored Procedures, XML export, plain text export, etc., Agni Link 2012 introduces Web Services support, which allows for a more efficient, safer way to query / update data while observing the ERP application's business logic.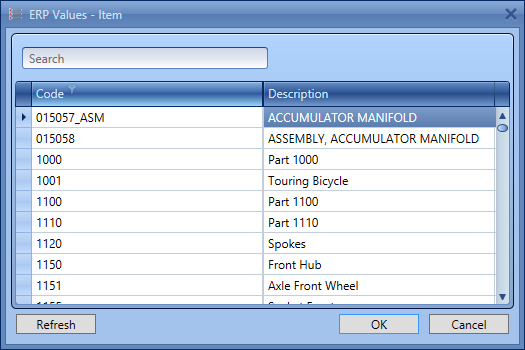 Any field that needs to be validated against possible values in the ERP system can be defined as a lookup that will return only those values that are deemed valid by the ERP system. That includes, among others, Units of measure, Item types or even Raw materials and Purchased items returned "live" by the ERP database. The end-user can also use a powerful keyboard-searched feature to find data based on either the code or the description of the item.
Improved performance and response time during lookups
Agni Link's very powerful lookup feature allows users to query ERP database data from within their CAD application, thus ensuring that whatever data they enter can be not only properly validated, but also populated using live ERP data.  However, in some situations, such as querying of an item master database with hundreds of thousands of entries, populating the lookup lists could hamper performance.  Through clever use of multithread programming and intelligent data buffers, the software wizards at Elmo Solutions put together a technology that ensures solid performance at all times.
And many, many more…
Those are just a few of the additions and improvements you will find in Agni Link's architecture.  But don't just take our word for it: send a request for further information today.