Agni Link CAD PDM PLM Enhanced Integration System For IFS Cloud ERP System
Elmo Solutions announces the new Agni Link ERP Connector for IFS Cloud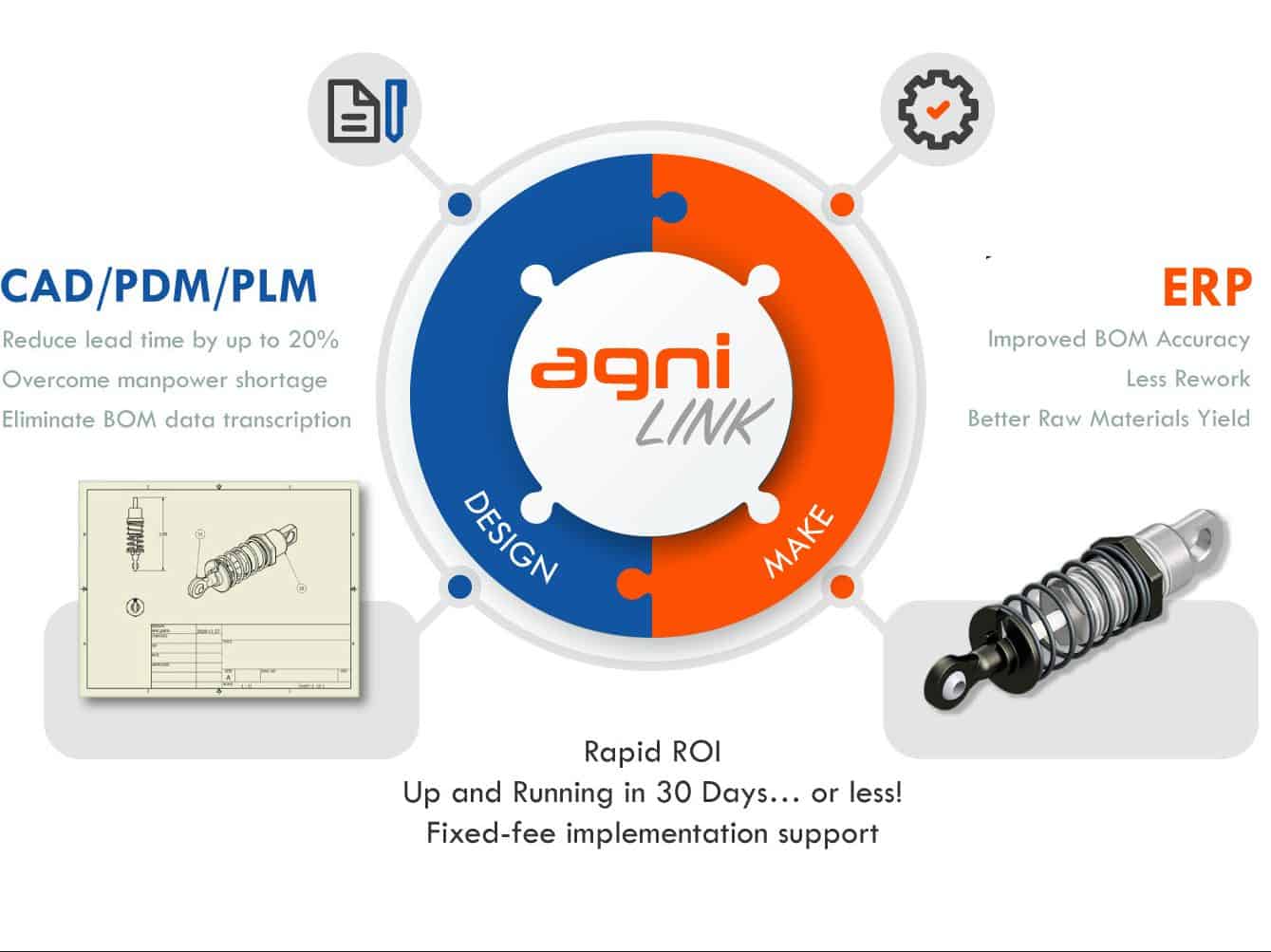 QUEBEC CITY, CANADA–(PRWeb)–Elmo Solutions announces the Agni Link Connector for IFS Cloud, providing all the features of its live bidirectional CAD PDM PLM to ERP data management solution, to IFS Cloud Enterprise Resource Planning (ERP) systems.
Support for a integration of a wide range of engineering applications

The New connectors will allow live, bidirectional integration between SAP ERP platforms and a number of CAD/PDM/PLM applications, including, but not limited to:
Mechanical Design

Dassault Systèmes SOLIDWORKS
Autodesk Inventor
AutoCAD Mechanical
Solid Edge
Siemens NX

Product Data Management (PDM)

Dassault Systèmes SOLIDWORKS PDM Professional, Enterprise PDM (EPDM)
Autodesk Vault

Product Lifecycle Management (PLM)

Siemens Teamcenter
PTC Windchill

Electronics Design (EDA)

Automation Design

General-purpose design (CAD)

Building Information Modeling (BIM)
IFS Cloud-Agni Link: a match made in heaven
"Agni Link engineering-production transfer management for the IFS Cloud platform is a natural evolution of our existing ERP connectors, which were first introduced in 2007. This represents an important milestone for the Elmo Solutions product family," says Science Officer Ricardo Talbot. "Our development team is poised to providing companies with the most powerful and dependable IFS Cloud ERP-CAD management solution to its IFS Cloud ERP users. Knowing Agni Link is an IFS Cloud-compatible product will reassure these IFS Cloud customers and their engineering users that they are achieving a very high level of productivity and BoM accuracy when using Agni Link and IFS Cloud."
From engineering to manufacturing… and back!
Agni Link is an add-in to CAD, PDM and PLM software applications that provides seamless, real-time, bidirectional connectivity with ERP systems such as IFS Cloud. It is designed to allow quick, efficient and error-free transfer of data from CAD… and back. and Replete with advanced features, the solution offers customers a unique and reliable way to create and update of both CAD data and IFS Cloud production data. It automatically resolves discrepancies, and allows editing of engineering data using possible values obtained "live" from the IFS Cloud Enterprise Resource Planning (ERP), thus ensuring perfect synchronization of both data sets and completely eliminating redundant data entry as well as eliminating costly errors. Agni Link software for IFS Cloud enterprise software can process and synchronize a wide range of product data from either environment, including Bill of Material (BoM), Job, Quote, Inventory, Business Process, Asset Management, etc.
Benefits that bring rapid ROI
Key benefits of the software include:
Improved human capital management resulting from the reduction or elimination of the manual data transcription process
More accurate certified Bill of Material (BoM)
Drive efficiency, control costs by improving the engineering cycle by up to 20%
Fixed-fee implementation and configuration services… no surprises!
Feature-rich, too!
Agni Link solutions address the needs of CAD, PDM, PLM and IFS Cloud ERP business users sharing product data throughout the enterprise. Designed with the engineering and management users in mind, the software includes powerful features such as:
An Integration Dashboard tool that allows the detection and elimination of errors in BoM data directly from the CAD environment with ease of use
Support of both interactive and "black box" operation
Customer-configurable mappings and data transformation support using the Integration Builder tool that enables the customer to create and edit an unlimited number of mappings, without the need for programming or substantial changes to the ERP data model
Customers may build different integrations to accommodate different business processes, business models and/or different end-user business roles, and instantly select integrations using the Agni Link Integration Switcher
Raw materials fully supported
Company-wide access to accurate, up-to-date attachments

Drawings
Supporting documents (requirements, test results, etc.)
Video documents

Can carry version and revision history over from CAD/PDM/PLM application to ERP application
Can make up-to-date purchasing data available to engineering users

Vendor
Pricing
Availability
More

Capability to mix and match CAD/PDM/PLM connectors to merge product data into a single data model in the IFS Cloud enterprise software
Cloud-ready ERP and CAD/PDM/PLM integrations
Better user experience resulting from interactive data editing features
Compatible with IFS Cloud, while maintaining backward compatibility with IFS Applications 7-10
When dependability matters
Established in 1979, Elmo Solutions is a Canadian company recognized as the leader in ERP-CAD/PDM/PLM integration, with business users in over 50 countries. Elmo Solutions is an authorized partner of best-of-breed software vendors such as IFS, SOLIDWORKS, Autodesk, Siemens, EPLAN and Pulsonix, among others.
Reduce Design Time by up to 25%
In ETO-intensive manufacturing, anywhere between 5% and 25% of the total engineering is devoted to the transfer of Bills of Materials from engineering to manufacturing. Automating that process translates into dramatic savings… and improved lead time.
Elimination of Costly Errors on Factory Floor
Increased BoM accuracy brings increased product quality, better yield on raw materials… and lower production costs.
Rapid ROI
Agni Link usually pays for itself very quickly. Recovery periods of 180 days or less are not uncommon.
Guaranteed on-Budget Implementation
With Elmo Solutions' fixed fee programs, configuration and deployment are done for a fixed fee, no matter how complex your requirements are. Guaranteed cost… Guaranteed peace of mind!
Automatic Error Detection and Correction
Agni Link's unique architecture allows automatic resolution of discrepancies, based on rules over which the customer has complete control. Another way we can maximize engineering time.
No Programming. Ever.
An Agni Link customer has full control over the integration process, thanks to the Agni Link Integration Builder. Add as many mappings as you like, modify or suppress existing mappings. Define data validity by your own rules. Without any programming whatsoever.
Value-Added Services
The JumpStart (implementation support) and BigBangBoMs (Data Initialization) Programs greatly enhance the value of the solution by bringing complementary services… for a fixed fee. No surprises!
Up And Running in 30 Days... or Less.
From the kick-off meeting to the final rollout, a typical implementation is normally completed within 20 business days.
Multilingual
Agni Link currently works in English and French. Configuring other languages is a straightforward process, and can be easily done upon request.
What Our Customers Say...
Will Agni Link support my CAD and ERP systems?
Elmo Solutions' Agni Link is currently available as an add-in to the following platforms:
CAD/PDM/PLM applications

Planned

CAD/PDM/PLM

applications

ERP Integrations

Planned ERP Integrations

Dassault Systèmes CATIA
PTC Creo
Siemens NX
Altium Designer

Epicor ERP
ODOO
Orchestra pour PME
Acomba Accounting Suite
Agni Link can also be easily and cost-effectively adapted to virtually any CAD, PDM, PLM or ERP systems. Click here to inquire about availability for other applications that may require CAD/PDM/PLM data integration.