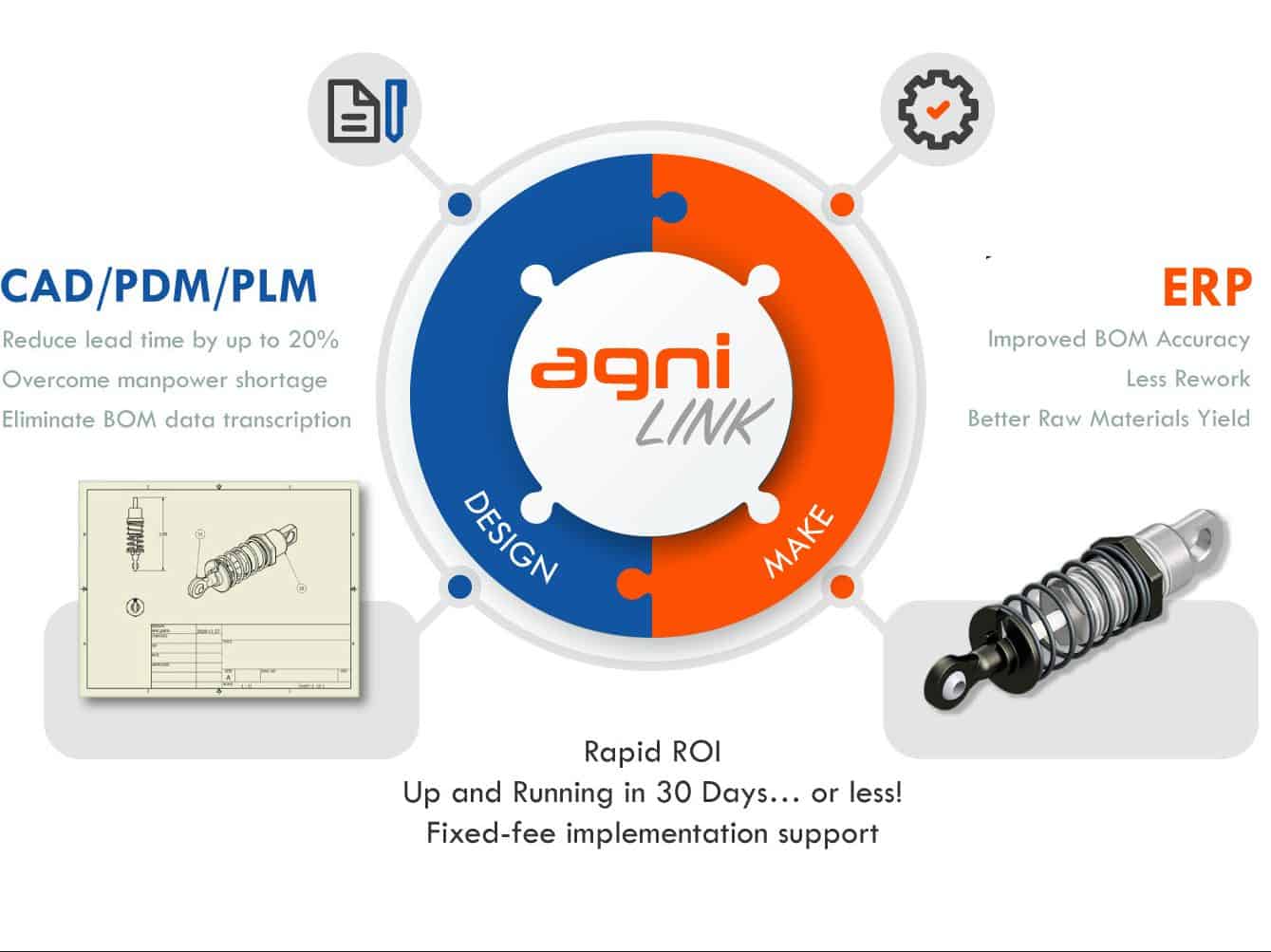 Agni Link : real-time data transfer from CAD/PDM/PLM to ERP
Agni Link automates the transfer of Bills of Materials using an add-in to CAD/PDM/PLM applications by Autodesk, SOLIDWORKS, PTC (Creo, Windchill) and Siemens (Solid Edge, Teamcenter), just to name a few. It brings your data from both information silos into one common data object. You can easily define simple rules, so the discrepancies found between your systems are resolved in real-time automatically, based on simple rules that you can easily define. Easy, error-free, accurate and reliable. The Elmo way. And if you are not quite happy with the mappings and their behavior, you can easily edit them all by yourself — without any programming!
THAT is the leading edge in the world of CAD ERP data  integration.
Agni Link, the brainchild of Elmo Solutions's R+D team, is the result of over 30 years of experience in the CAD, PDM and PLM domains. Our wizards have designed the link application with quality obsession. Our experts chose the most important feature that is often left out in the industry: the customer's freedom of choice.
What to discuss with an integration wizard? Click to contact one
The Agni Link CAD ERP integration process
Agni Link is the most advanced CAD ERP integration system currently available. It's an add-in to SOLIDWORKS, Autodesk, PTC or Siemens engineering applications. It offers a unique, reliable and cost-effective way to integrate CAD / PDM / PLM applications with virtually any ERP, MRP, BPM or other system.
Agni Link can process real-time, bidirectional data integration. Also, you can synchronize a wide range of data from either side, including, but not limited to:
Product Data: automatically updates and/or creates component, subassembly or assembly data in ERP system
Bills Of Materials: automatically updates BoM items quantities in ERP/MRP system
Parts and Items: in some ERP systems, it can work with more than one part/item table at a time (e.g., Master Catalog, Engineering Part, etc.)
Routing Instructions: edits and automatically inserts routing data into a CAD document
Raw materials: using raw materials available in the ERP system, end-users can optionally supply raw material information, including quantity and units of measure. Agni Link can even automatically extract geometric information (mass, length, area, etc.) of certain parts and use it as the raw material quantity
Revisions: Agni Link faithfully transfer version and revision history data between your engineering and manufacturing environments
Vendor, Pricing, etc.: Users can see the procurement data from the ERP system (vendor information, costing, even available quantities). All in real-time!
Engineering Change Management:Engineering Change Requests, Orders and Notifications (ECRs, ECOs and ECNs) can be mapped bidirectionally between engineering and ERP applications, allowing joint Change Management
Jobs: Job-centric ETO manufacturers can map engineering documents into jobs or work orders, rather than Bills of Materials
Quotes: Users can instantly switch from a product design integration to a quote integration… or any other type of integration, for that matter. The only limitation is your imagination!
Agni Link achieves optimal integration by processing the data through a simple and efficient process :
1) Agni Link data object fetches all the mapped CAD / PDM / PLM and ERP data.
2) You define rules, and the bridge automatically resolves discrepancies found. Agni Link indicates decisions made automatically by through color-coding of data in the Agni Lnk Integration Dashboard. Of course, you can, at any time, either revert to the previous value, or select a different value of your own taste, as long as it is acceptable to the ERP system. If it is not, don't worry, Agni Link will let you know right away!
3) The Agni Link Integration Dashboard presents the "merged" CAD and ERP integration data to the end-user. You can use it to display engineering data, but also ERP data such as any vendor, costing and availability. Users can use these informations to make better design decisions. They also use a color-coded dashboard that indicate any potential issues with the BoM data to be transferred.
4) Users can use edit functions to quickly validate and populate Bill of Materials data. Lookups performed in real time on the ERP system, ensuring that anything sent to the ERP has properly checked the ERP system's own business logic. The results translate into much greater BoM accuracy. When Agni Link properly verified all data, it sent it back to CAD and ERP for the final synchronization.
5) End-User updates data simultaneously in both environments, upon final confirmation. He/she can even create automatic data (Items, Bills Materials, Routings, etc.) that does not exist yet in the ERP system.
Not just about BoMs… Many different integrations are possible!
Customers strongly require for Agni Link to involve Bill of Materials (BoM) data. Agni Link can put it's architecture to work to integrate other ERP data, namely:
Assembly /
sub assembly
Business Process
Management (BPM) data
Bills of Materials
(BoMs)
Components
CRM data

Document management

Estimating
Jobs
Product catalogs
Product configuration

Parts catalogs

Product data
Production orders
Production schedules

Routing data

Sales Quotes
Supply chain data
Technical documentation
Work orders
-

The Agni Link Architecture
Agni Link have a three "buckets" architecture. Indeed, each contains the entire data the customer wishes to map.
Agni Link can transform a lot of data. During the integration process, it processes mappings that can be not only constants, but expressions as well. Those can apply data transformations and calculations on data during the integration process. However, you can always have the last say on those. Actually, you may change them at any time until the final data transfer.
When you update a component or assembly, you may enter and/or edit CAD data:
You can do it the first time, or at any moment afterwards. Also, in the case of PDM and PLM systems, you can use selectable events like : new revision, new version, approval, release, etc.

The

Integration Dashboard let you use

 "live" values taken from the MRP, ERP, BPM, CRM or other application

 

: 
The Agni Link Integration Dashboard automatically creates/updates ERP Items, BoMs and Routings whenever necessary. Users  rely on color-coding to indicate which new data objects will be created in the ERP system.
Also, the Dashboard simultaneously displays information for the entire Bill of Materials and specific component data. It makes extensive use of color-coding to indicate any issues or warnings prior to the actual integration.
Take a look at the Agni Link Quick Demo Videos
The video below is a quick overview of the Agni Link Integration dashboard :
This other demo video shows how Agni Link handles routings and work instruction data :
Here is how you can create your own mappings :
Users have total control over the integration process. The Agni Link Configuration Builder allows to create or modify an unlimited number of mappings, as well as the behavior of those mappings.
Would you rather see how this work with a live demo? Schedule a demonstration
What Our Customers Say
"It is completely automatic."

"… performs well and we have had no downtime as a result of using this product."

"We update […] 1000 items per month."

"Our application then is more complex […] as we calculate the no of sheets of material to lasercut 12,500 parts from in 15-20 different sheet sizes based on this data transferred which has to be exactly up to date."

"We chosed Agni Link because they understood the transfer requirement."

"They completed the project on schedule and on budget."

"They supported the product."

"All pretty straightforward…"
Get a quick return on your investment with Agni Link
Yielding an unusually high ROI, Agni Link typically pays for itself in 3-6 months in ETO-intensive environments. The ROI mainly results from:
Virtually eliminating manual and/or erratic transfer of data
Dramatic reduction of errors on the factory floor, as a result of increased BoM accuracy
Low TCO (Total Cost of Ownership) of the solution, due to self-reliance of customers (custom solution without programming)
Want to know how you would ROI our solution in your company? Ask your free ROI assessment
This is not just about CAD… PDM and PLM are in the picture too!
Agni Link includes connectors for your favorite PDM or PLM application. The user interface is exactly the same as for CAD connectors, except that the PDM and PLM connectors allows customers to:
Users can work with a richer data set that also includes BoM data that is not normally found in CAD data
Select the events or workflows (check-in, approval, new revision, etc.) that will automatically trigger the integration process
When the user set up specific milestones in your business process, your PDM system will automatically initiate synchronization. It'll release the Engineering Bill of Materials data to the ERP system, thus updating product data in a timely fashion.
You're already in the PLM era? Agni Link can be your reliable companion. Our versatile application architecture will allow you to link procedures, user manuals, schematic, marketing, service, quality, support and many more, by merely changing the Agni Link configuration.
Thus, Agni Link will allow bidirectional communication for all documents and files throughout the entire production/supply chain. That way, there won't be an annoying « black box » effect for any stakeholders. Indeed, approval process will be distributed to prevent all discrepancies in real time. Also it'll identify who made changes (and why).
Your PLM efficiency is based on the coordination of product data. It includes : changes, status, configuration, document management and resources planing. For this kind of data, you imperatively need the best integration for your PDM/PLM and ERP data.
Stop leaving money on the table, and INTEGRATE: the sooner, the better!
You can interconnect all your software with a powerful, versatile and reliable bridge. To find out If you wonder how it could work with your particular system, don't hesitate to contact us.
Will Agni Link support my CAD and ERP systems?
Elmo Solutions' Agni Link is currently available as an add-in to the following platforms:
CAD/PDM/PLM applications

Planned

CAD/PDM/PLM

applications

ERP Integrations

Planned ERP Integrations

Dassault Systèmes CATIA
PTC Creo
Altium Designer

ODOO
Orchestra pour PME
Acomba Accounting Suite
Agni Link can also be easily and cost-effectively adapted to virtually any CAD, PDM, PLM or ERP systems. Click here to inquire about availability for other applications that may require CAD/PDM/PLM data integration.