New version of leading-edge Apps 10 connector enhances the power of IFS ERP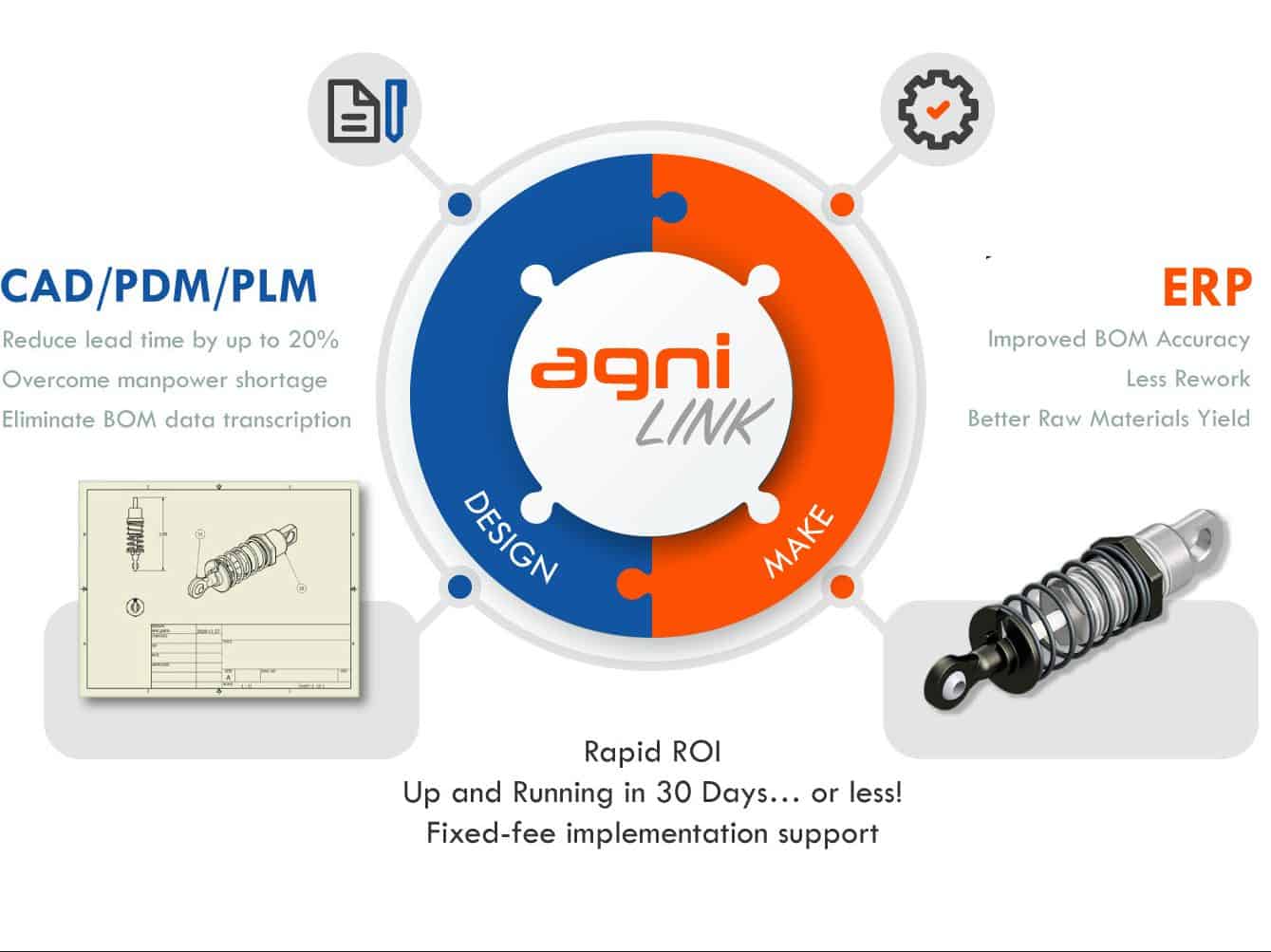 Elmo Solutions announces a the immediate availability of its award-winning IFS connector for Agni Link, its live, bidirectional CAD PDM PLM to ERP integration system, that will provide support for cloud-based as well as on-premise IFS Applications 10.
The new, enhanced connector will allow live, bidirectional integration between SAP ERP platforms and a number of CAD/PDM/PLM applications, including, but not limited to:
 SOLIDWORKS
SOLIDWORKS PDM Professional, Enterprise PDM (EPDM)
AutoCAD and its various "flavors" (Mechanical, Electrical, etc.)
Autodesk Inventor
Autodesk Vault
Siemens Solid Edge
Siemens Teamcenter
PTC Windchill
"We are excited to announce the IFS Applications 10 Connector among our offering. This represents a significant adition to the Elmo Solutions family of integration products designed with ETO manufacturing in mind," says Science Officer Ricardo Talbot. "Elmo Solution's R&D team is committed to providing ongoing enhancements to IFS ERP customers. Knowing Agni Link is an IFS-compatible product will ensure these users they are achieving a very high level of productivity when using Agni Link in conjunction with IFS."
Agni Link is an add-in solution to PLM PDM and CAD applications that provides bidirectional, real-time exchange of engineering metadata with ERP systems. It a unique application that offers a simple and reliable approach to integrate engineering and manufacturing data. It can automatically resolve discrepancies, while allowing editing of CAD data using possible values obtained "live" from the ERP system, which ensures perfect synchronization of both data sets of objects and virtually eliminating redundant data entry as well as eliminating costly errors on the shop floor.
Agni Link can process and synchronize a wide range of product data from either environment, including:
Bills of Materials (BoMs)
Jobs
Estimating
Sales Quotes
Business Process Management (BPM) data
Work Orders
Production Orders
Production Schedules
Product Catalogs
Product Configurations
Parts Catalogs
Technical Documentation
Supply Chain Data
Document Management
CRM data
Agni Link addresses the needs of CAD/PDM/PLM and IFS users sharing product data throughout the enterprise.
Designed with the end-user in mind, it includes powerful characteristics such as: 
An Integration Dashboard that allows validation of BoM data directly from the CAD environment
A Configuration Builder that enables customers to create and edit an unlimited number of mappings.
Established in 1979, Elmo Solutions is a world class leader in CAD-ERP data integration, with users in over 50 countries.
Reduce Design Time by up to 25%
In ETO-intensive manufacturing, anywhere between 5% and 25% of the total engineering is devoted to the transfer of Bills of Materials from engineering to manufacturing. Automating that process translates into dramatic savings... and improved lead time.
Elimination of Costly Errors on Factory Floor
Increased BoM accuracy brings increased product quality, better yield on raw materials... and lower production costs.
Rapid ROI
Agni Link usually pays for itself very quickly. Recovery periods of 180 days or less are not uncommon.
Guaranteed on-Budget Implementation
With Elmo Solutions' fixed fee programs, configuration and deployment are done for a fixed fee, no matter how complex your requirements are. Guaranteed cost… Guaranteed peace of mind!
Automatic Error Detection and Correction
Agni Link's unique architecture allows automatic resolution of discrepancies, based on rules over which the customer has complete control. Another way we can maximize engineering time.
No Programming. Ever.
An Agni Link customer has full control over the integration process, thanks to the Agni Link Integration Builder. Add as many mappings as you like, modify or suppress existing mappings. Define data validity by your own rules. Without any programming whatsoever.
Value-Added Services
The JumpStart (implementation support) and BigBangBoMs (Data Initialization) Programs greatly enhance the value of the solution by bringing complementary services... for a fixed fee. No surprises!
Up And Running in 30 Days... or Less.
From the kick-off meeting to the final rollout, a typical implementation is normally completed within 20 business days.
Multilingual
Agni Link currently works in English and French. Configuring other languages is a straightforward process, and can be easily done upon request.
What Our Customers Say...